If you have a thirst for the paranormal or a desire to contact the dead, Tampa is your city. Whether it's spooky season or not, taking a ghost tour in Tampa is always a great idea. There's a surprisingly large amount of history in the city, accompanying ghosts and ghouls aplenty just waiting for your visitation.
Both vengeful and friendly spirits are said to inhabit Tampa Theater, the most notable being Foster Finley, a projectionist who met a grizzly end in the theater in 1965.
But that's not all; the Florida Brewery Company houses the ghost of a Cuban man who loved his beer, while visitors passing the abandoned Old Tampa Book Company have often seen a man in a top hat staring back at them from the window.
I've tried all the top ghost tours in Tampa, and if the stories above give you goosebumps, I recommend booking a tour and exploring further. Who knows, maybe you'll meet Casper the not-so-friendly ghost, or communicate with someone lost to the city's rich history.
5 Best Ghost Tours in Tampa
Having tried many spooky tours over the years, I've come up with a list of the best ghost tours in Tampa. These tours offer you the best chance to spot something terrifying, with something slightly unique about each. From lighthearted walking tours to the darker side of the paranormal, these tours are a must-do whether it's Halloween or not.
Go on, I dare you.
1. Tampa Terrors Ghost Tour By US Ghost Adventures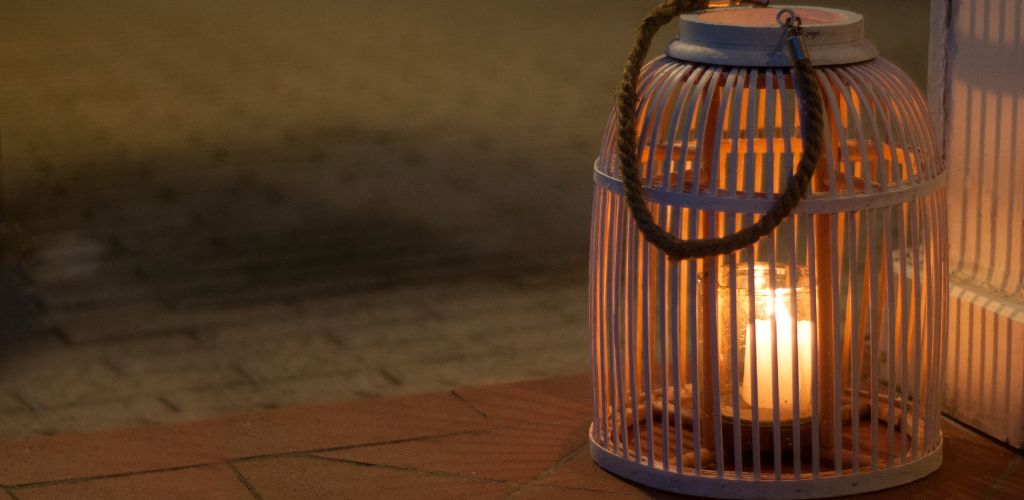 Probably one of the most unique ghost tours in Tampa is the Tampa Terrors Ghost Tour – it's extremely popular for good reason. The great thing about this tour is that it starts at 8 pm, meaning you can grab something to eat before it begins. It creates the perfect ambiance for spooky goings-on.
I took this tour recently and really enjoyed it. I learned a lot about the haunted history of the area, with visits to paranormally active Tampa Theater, Old City Hall, The Courthouse, and East Kennedy Boulevard. Your guide will tell you about the ghosts that have been spotted in each location, and it's near-impossible to prevent the hairs on your neck from standing on end.
Remember, this is a walking tour so comfortable shoes are recommended. While I didn't see a ghost myself, I definitely felt like I was being watched several times; you can't help but be super-aware of your surroundings and question everything you think you're seeing and hearing.
Tampa Terror Ghost Tours Details:
2. The Official Downtown Tampa Ghost Tour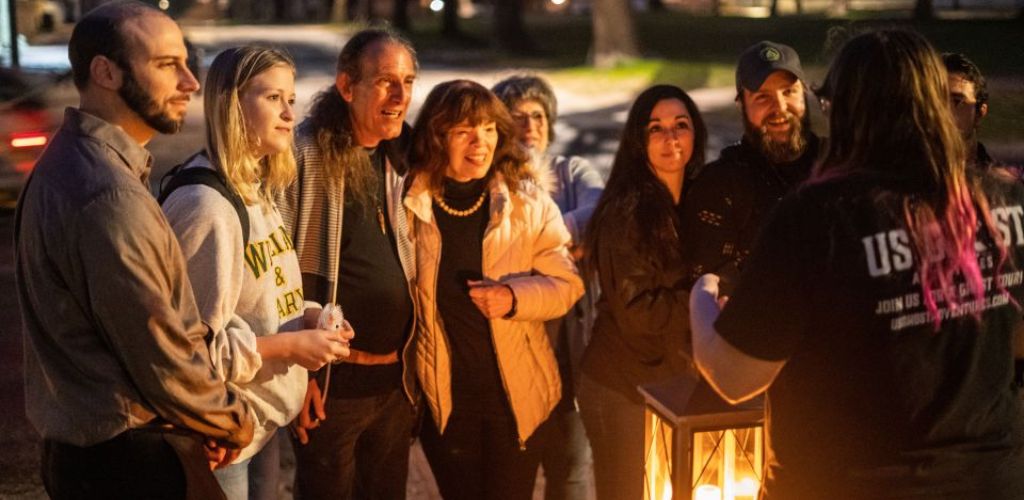 Downtown is packed with ghosts and ghouls watching you at every turn, and this ghost tour in Tampa will make you take the paranormal extremely seriously indeed. You'll explore several sites that are on the registry of haunted sites, as well as Tampa Theater, one of the oldest and most haunted buildings in the city.
You'll also get to explore the Sacred Heart Catholic Church, which was built in 1860. It's one of the most famous ghost destinations in Tampa and with so many years of history within its walls, who knows what (or who) you might encounter as you explore the exterior of this extremely haunted building.
Your knowledgeable guide will tell you all about the reputed sightings and goings on in these buildings, and there'll be free time as you explore to try and tune into entities that might be lurking in the dark shadows.
The Official Downtown Tampa Ghost Tour Details:
3. Haunted Tampa Ghost and Pub Walking Tour – Ybor City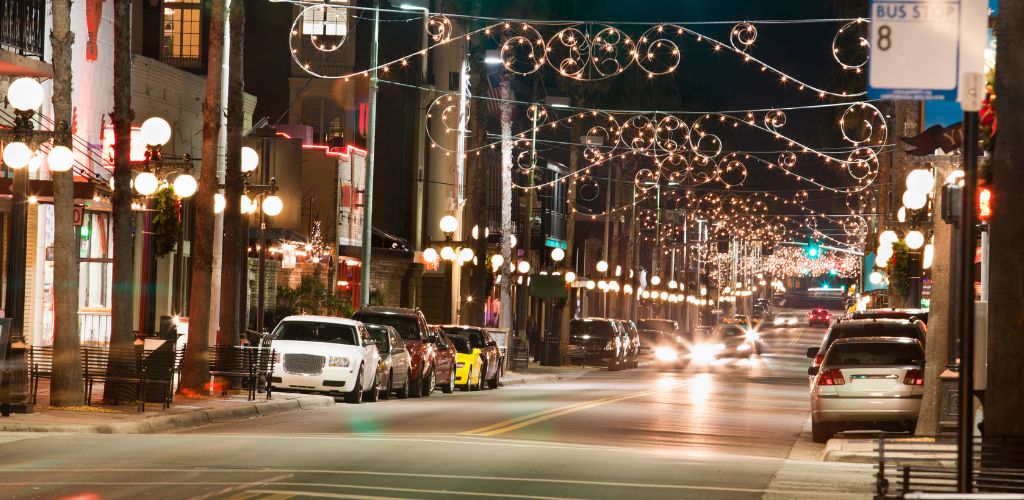 Without a doubt, this haunted pub crawl/walking tour is one of the best ghost walking tours in Tampa, and it's hands-down my favorite; I've done this tour a few times with friends and wouldn't hesitate to do it again.
You'll begin your tour at Tampa Bay Brewing Company, reputed to be the home of a drunk ghost, before moving on to Ybor City Museum State Park to learn about the spooky goings-on within the park reported by locals and visitors. Your tour will end at Cigar City Cider & Mead, with tales of mysterious deaths and vengeful spirits.
As you wander around Ybor City at night, you'll see a completely different side of the neighborhood. And remember, this is one of the most haunted parts of Tampa, so there are plenty of friendly and unfriendly ghosts still calling this place home. Let's hope they choose to come out to play when you take this tour.
Haunted Tampa Ghost and Pub Walking Tour Details:
4. Ghost Hunters Paranormal Ghost Tour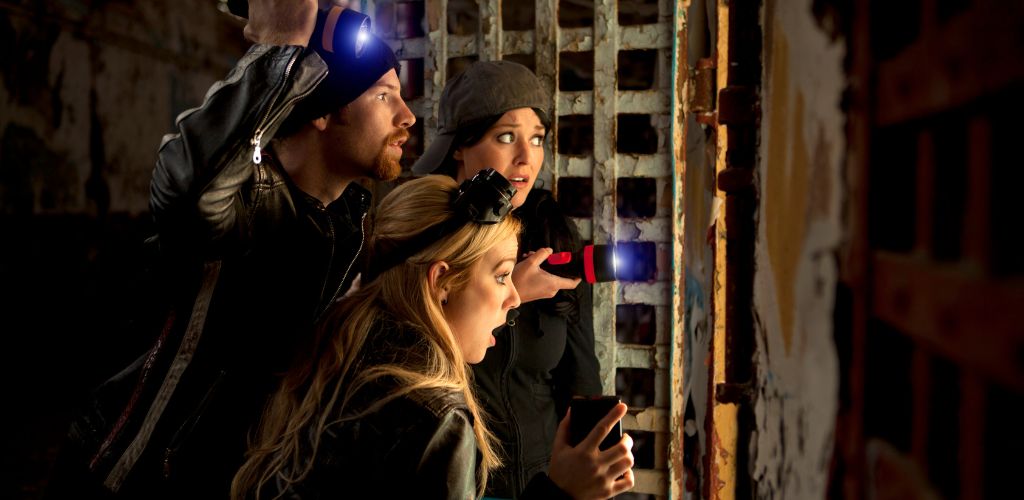 If you want to feel like a real-life ghostbuster, this is one of the best ghost tours in Tampa. Not only do you get to walk around with a guide and learn about spooky sightings, but you also get to use equipment to detect paranormal activity yourself.
I took this tour with a close friend, and we had a blast. You also get access to an app that tells you where the most haunted areas are, which you can use once the tour is over to continue your ghost-hunting activities. As an add-on, you can have dinner in a haunted restaurant before the tour begins.
Dinner isn't included in the basic tour package unless you request it and pay an extra charge. However, all ghost-hunting equipment is encompased in the price, aswell as free access to the app. I still use the app when I'm in Tampa – I'm always on high ghost alert.
Ghost Hunters Paranormal Ghost Tour Details:
5. Ghost Investigation Tour Interactive Paranormal Experience 18Plus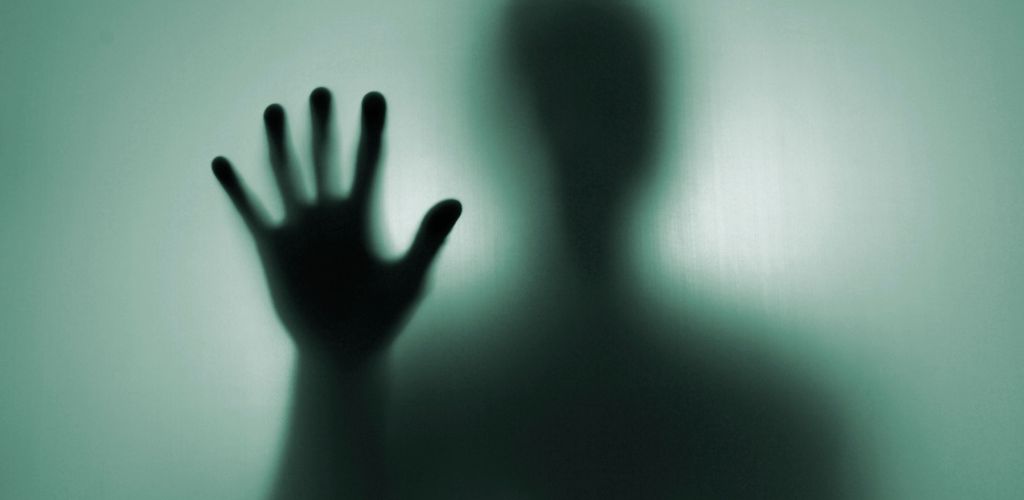 Many ghost tours in Tampa are private, but this one allows you to meet other like-minded people along the way. You're provided with ghost-hunting equipment, which you'll use as your guide takes you through some of Tampa's most haunted locations. The tour begins at the SpookEasy Lounge, a kava bar with a spooky past.
You can fuel up along the way as drinks are available for purchase in Cigar City Cider and Mead, a stop on the tour. However, you'll need to pay for these yourself as they're not included in the booking price.
The thing I enjoyed most about this tour is that you're given free roam of the haunted areas. You simply walk around and use your equipment to try and dectect paranormal activity, with your guide there to answer any questions you may have. It felt a lot less structured and I appreciated the time to explore at my own pace.
Ghost Investigation Paranormal Experience Details:
Where to Stay in Tampa for the Ghost Tours
If you want to join a ghost tour in Tampa, these are the best neighborhoods to stay a night or two:
Ybor City – Best for Ghost Spotting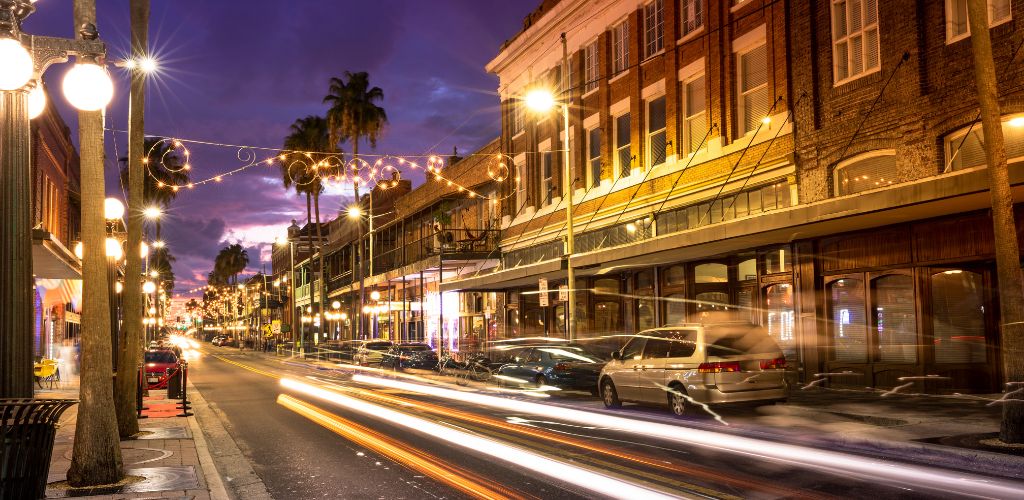 Ybor City is the historic district, with plenty of stories from days gone by connected to the old cigar industry. Many Cubans flocked to this part of the city during the 1800s for work; however, poorly constructed buildings often succumbed to fire, and many lost their lives, reputedly still haunting the area.
Given its past, it's unsurprising that this is where you'll find the best ghost tours in Tampa. There are many great places to stay in Ybor City, but I enjoyed Hampton Inn & Suites. The location is fantastic, and the staff are excellent; nothing is too much trouble. You're also very close to vibrant nightlife and some fantastic eateries.
Downtown Tampa – Best for Easy Ghost Tours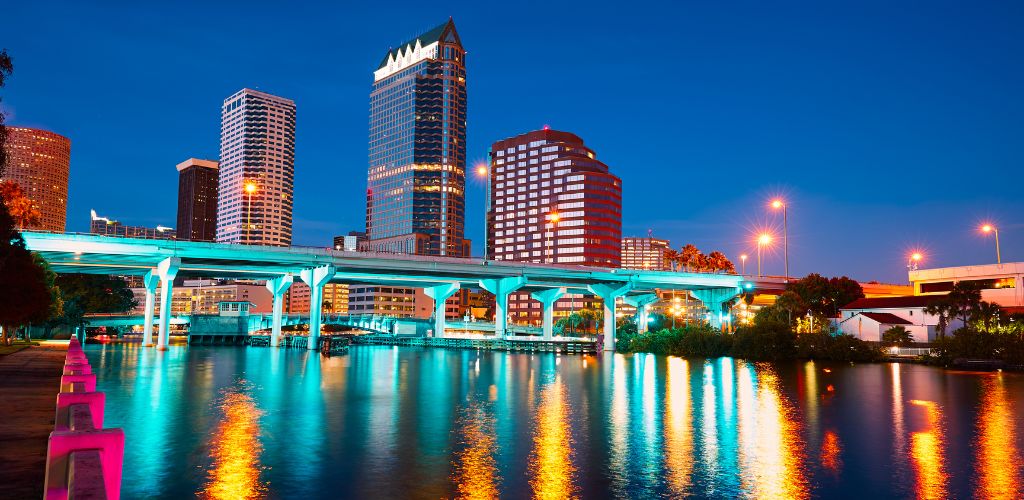 There are many ghost attractions in Tampa's Downtown area, not least Tampa Theater – one of the area's oldest and most haunted buildings. Many tours begin and end here for a reason, but that's not it: the Old Tampa Book Company and Florida Brewery Company are also paranormal hotspots.
Basing yourself, Downtown is an excellent idea because you're centrally placed for everything. One of my favorite hotels is The Tampa EDITION. Upmarket, comfortable, and super-stylish, this hotel offers many on-site facilities you may never want to leave.
Channelside – Best for Ghost-Hunters to Relax
If you're keen to go on a ghost tour in Tampa but don't want to stay in the loudest place possible, Channelside is the place to be. It's incredibly close to all of Downtown's spooky spots and meet-up points for tours, yet calm enough to get a good night's sleep (unless you're a little on edge after your creepy evening!).
JW Marriott Tampa Water Street is highly recommended and provides a chilled-out spot to allow your heart rate to return to normal after all that ghost hunting. The rooms are extremely comfortable, and the outdoor pool is enormous.
Getting Around Tampa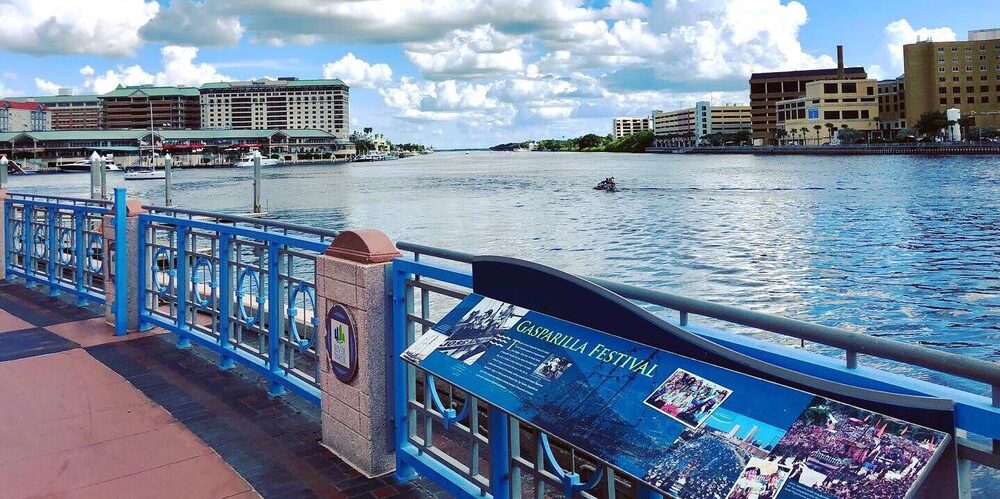 The best way to get around Tampa is to hire a car. You'll get to see so much more than you otherwise would, and you won't have to stand in queues for public transport. It's very easy to hire a car: you simply need a clean driving license and a credit card to secure your booking.
However, not everyone has that option, or perhaps you don't want to drive. In that case, Tampa is a very walkable city to a degree. I enjoy walking along the Riverwalk between Channelside and Downtown. It's also possible to walk to Ybor City. You may also find ghost tours by bus in Tampa, which cuts out the need to drive.
Public transport is plentiful, although it can become jam-packed at certain times of the day and on weekends. Hart Bus runs services around the main parts of the city center, with a set $2 price for a one-way journey. Alternatively, the city is comfortable to cycle around, thanks to its many cycle lanes that allow you to avoid the traffic.
In Closing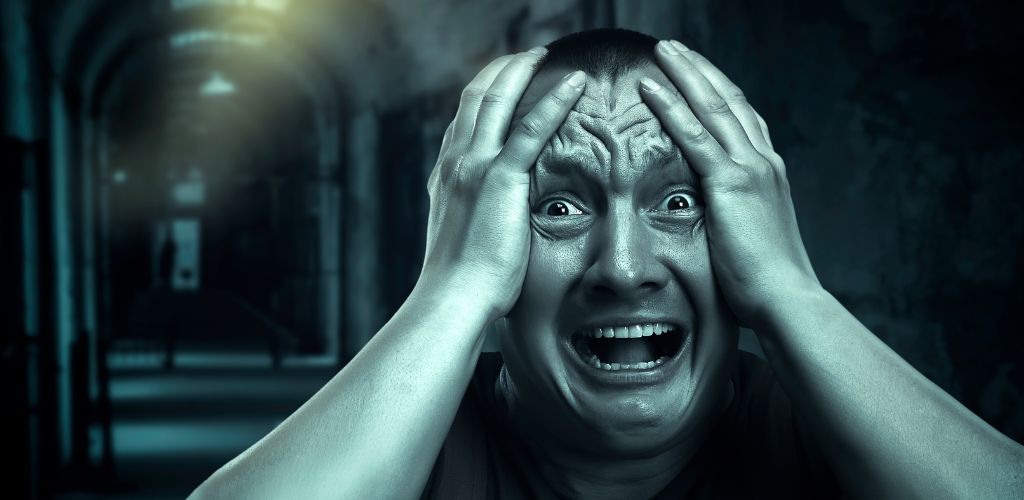 Keep your eyes peeled during your ghost tour in Tampa and do your best to keep your heart rate down. The spirits that inhabit the city's most haunted spots may be friendly or vengeful, and countless visitors before you have reported terrifying goings-on. Will you see an apparition or pick up on spine-tingling whispers?
It doesn't have to be Halloween to enjoy a ghost tour. Tampa's history is rich and extensive, which means there are plenty of faces from the past who may just want to pop back up and say a spooky hello. The only question is whether you're brave enough to rise to the challenge and step into the world of the paranormal.