If a trip to one of England's most beautiful cities is on your agenda, you're in the right place – I've put together a list of the 15 best bars in Bath. I recently spent two months pet-sitting in the city and thoroughly enjoyed my time there. The whole city is a UNESCO World Heritage Site and there's a ton of culture and history to be found on almost every corner.
Bath is also home to two universities – Bath Spa University and the University of Bath, meaning that a great bar scene is mixed in with the city's many cultural activities. Bath is an awesome place for a night out or even a spot of day drinking.
A lot of the most popular bars in Bath can be found within the city center. It's a very walkable destination and a great location for a city break. There's a nice range of bar options to choose from, so whether you like a quiet craft beer bar or are just looking for 2-for-1 cocktails, you'll find all you're after in Bath.
Best Bars in Bath
After spending two months in Bath, England, I got to know the bar scene well. My husband, Rob, and I enjoy heading out for a drink or two and are always on the lookout for cool new bars to visit. We especially love finding a good happy hour deal and Bath does not disappoint on either count.
So, factoring in several different elements – price, ambiance and atmosphere, happy hour offerings, quality of beer garden, uniqueness, and food menu to name just a few – here's my list of 15 of the best places to drink in Bath:
1. Bath Brew House (Best Bar in Bath Overall)
My favorite bar in Bath is the excellent Bath Brew House. Not only does it have an incredible beer garden with a retractable roof for use in all weather, but it proudly makes its own range of beers onsite. The colorful and inviting beer garden compliments the traditional pub decor inside to create a really cool place and one of the most fun bars in Bath.
The beer that the Brew House makes includes traditional cask ales as well as craft beers and lagers. It picked up a gold certification at the Independent Beer Awards in 2022. You can book brewery tours and experience days if you want to delve deeper into the beer-making process for yourself.
The bar is very warm and welcoming, and the atmosphere has always been lively during my visits. If you like IPAs be sure to sample Warrior, one of the house beers, it's especially good.
Bath Brew House Information
Address: 14 James St W, Bath BA1 2BX, United KingdomPhone: +441225805609Operating Hours: 12vpm – 12vam Mon-Wed, 12 am – 1 am Thurs-Sat, 12 am – 11 pm SunMust-Try Items: The house-brewed beers are very good. I really liked Warrior – a 5.5% IPA. Don't overlook the food here as it's pretty tasty too. I recommend 2 or 3 plates from the starter options.Average Cost: $5.50 – $7 per pint, $6.50 – $12 wine and cocktails, $7.50 – $8.50 starter plates, $11 – $17 lunch and dinner platesWebsite: thebathbrewhouse.com
2. Brewdog Bath (Best Craft Beer Bar)
The best place for craft beer in Bath has to be Brewdog. The beer maker and increasingly popular chain of bars serve only their own products, and they make some truly great beers. I've seen their Punk IPA for sale in many countries and it's one of my favorite all-time craft beers.
If you're a fan of hazy beers, sours, stouts, or even zero-alcohol beers, Brewdog will have an excellent option for you.
Having visited a Brewdog bar in London that I didn't really enjoy, I stayed away from this one for a while. My sister took me into their Bath branch during a visit and I'm so glad she did. The Brewdog in Bath is brilliant. It has a great upstairs seating area that looks over the bar below and is a super cool place to sink a few pints.
I hadn't realized just how good the food was too – the Korean loaded fries are amazing.
Brewdog Bath Information
Address: 20 St Lawrence St, Bath BA1 1AN, United KingdomPhone: +441225758363Operating Hours: 12 pm – 11 pm Mon – Thurs, 12 pm – 1 am Fri 11 am – 1 am Sat, 11 am – 11 pm SunMust-Try Items: There's a terrific selection of Brewdog beers available, I loved their Punk IPA. The wings are good here but be sure to sample the Korean loaded fries, which are delicious.Average Cost: $6.50 – $8 beers, $6 – $8 cocktails, $10 – $15 extensive menu of bar foodWebsite: brewdog.com/uk/bath
3. Ludo Bar and Kitchen (Best Rooftop Bar)
Not only is Ludo one of the best sports bars I've ever been to, but it also has 2 top-floor terraces that make it one of the best rooftop bars in Bath too. The garden patios offer panoramic views of the city, making it the perfect place to spend a sunny English afternoon.
With over 30 HD TVs and a state-of-the-art sound system, Ludo is a great location to catch pretty much any significant sporting event, especially English Premier League football matches. There's always a great atmosphere for high-profile sporting events here.
Beers and liquor drinks start at around $5 – $6, not bad for one of the best bars in Bath with a view! The food is also really good here. It serves a classic bar menu of burgers, nachos, steaks, wings, and pizza but all are done really well.
Ludo Bar and Kitchen Information
Address: 9 Brunel Square, Bath BA1 1SX, United KingdomPhone: +441225335972Operating Hours: 11 am – 11 pm Mon-SunMust-Try Items: Make the most of the rooftop patio and enjoy the view of the beautiful Bath skyline. Try to catch a sporting event, especially an English Premier League football match, to experience an amazing atmosphere.Average Cost: $5 – $6.50 bottled beers and pints, $13 cocktails, $7.50 – $12 wines, $15 – $10 lunch and dinner platesWebsite: ludobath.co.uk
4. Juno Bar and Kitchen (Best Dive Bar)
We don't really have dive bars in the UK. We have some 'rough' pubs for sure, but the idea of an American-style dive bar isn't exactly a thing here. If, like me, you LOVE a good dive bar then you're sure to get your fill at Juno Bar and Kitchen. It has an industrial-style decor and casual ambiance along with pool tables, cool artwork, cold beers, and good bar food.
Adding to their dive bar feel, Juno's has a happy hour that runs Sunday to Thursday, from 5 pm to 7 pm. You can pick up select pints for around $5 and 2 for $12 specialty cocktails. Available all day every day, take advantage of their mix-and-match shots offer of 5 shots for $18, great if you're heading out with a group.
Juno is your best bet for that taste of a dive bar in Bath.
Juno Bar and Kitchen Information
Address: 4 Philip St, Bath BA1 1AU, United KingdomPhone: +441225330777Operating Hours: 11 am – 12 am Sun – Thurs, 11 am – 1 am Fri & SatMust-Try Items: Make the most of their great happy hour deals, the cocktails are a bargain at $6 each. A decent pint for $5 is also a good deal and 5 shots for $18 is one of the best drink offers in town. Average Cost: $5 – $7 beers, $6 – $10 wine and cocktails, £8 – $15 burgers, chicken, loaded fries, pizzas, and sandwiches Website: junobarandkitchen.co.uk
5. Vino Vino (Best Wine Bar)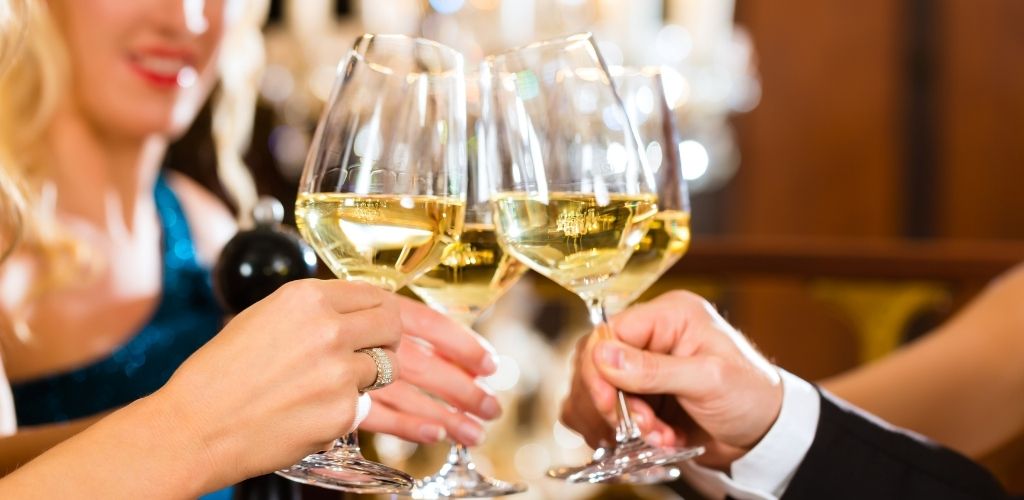 So good they named it twice. Vino Vino is a sophisticated wine bar in Bath that boasts an extensive menu of wines (unsurprisingly), beers, and cocktails at sensible prices. With a 64-page wine menu alone, and glasses starting from around $7, it really is a wine lovers paradise.
As far as food goes, Vino Vino sticks to a European, continental style. They offer a seasonally changing selection of cheeses, charcuterie, and bar snacks; perfect for sharing over a glass or two of wine. Much of the cheese, bread, and dessert offerings are locally sourced.
There's also a large front patio area that's great for a spot of people-watching. It looks out over a small piazza that's a busy thoroughfare and often has talented, scheduled buskers performing.
Vino Vino Information
Address: 5-6 Saw Cl, Bath BA1 1EN, United KingdomPhone: +441225312341Operating Hours: 12 pm – 12 am Mon – Thurs, 12 pm – 1 am Fri & Sat, 12 pm – 11 pm SunMust-Try Items: Take some time to fully evaluate the extensive 64-page wine list, and ask questions if you have any, the staff is pretty good with suggesting wines if you're a little overwhelmed. Be sure to add some bread, meat, and cheese plates to complement your order. Average Cost: $7 and up glasses of wine, $12 – $15 per cocktail, $7.50 per beer, $5 – $15 bites, small plates, and artisan sharersWebsite: vinovinowinebar.co.uk
6. The Dark Horse (Best Cocktail Bar)
If you're looking for a cozy spot for a few classy drinks, be sure to head to The Dark Horse. Considered by many to be one of the best cocktail bars in Bath, the antique and wood-accented decor makes for an epic atmosphere.
Knowledgeable and friendly staff are mixing up some inventive concoctions here, so expect to see some exciting and unique approaches to the drinks available. The welcoming and relaxing environment is hard to top anywhere else in the city.
I'd highly recommend you ring ahead and book a table, especially if you're planning a weekend visit. The Dark Horse is a popular spot and offers seated tables only and limited numbers to keep the vibe nice and relaxed. Drinks are a little more expensive here, but not by much. Trust me, you'll be really glad you stopped in for a few specialty drinks.
The Dark Horse Information
Address: 7A Kingsmead Square, Bath BA1 2AB, United KingdomPhone: +441225302820Operating Hours: 5 pm – 12.30 am Mon-Thurs, 5 pm – 2 am Fri, 4 pm – 2 am Sat, 4 pm – 11.30 pm SunMust-Try Items: Broaden your horizons and sample a cocktail from the seasonal menu. There's also a 'greatest hits' selection where the most popular Dark Horse cocktails of all time reside – needless to say, these are all worth a try.Average Cost: $12 – $15 per cocktail, $10 – $14 glasses of wine, $7 – $8 beer and cider, $5 – $10 bar snacksWebsite: darkhorsebar.co.uk
7. The Hideout (Best Whiskey Bar)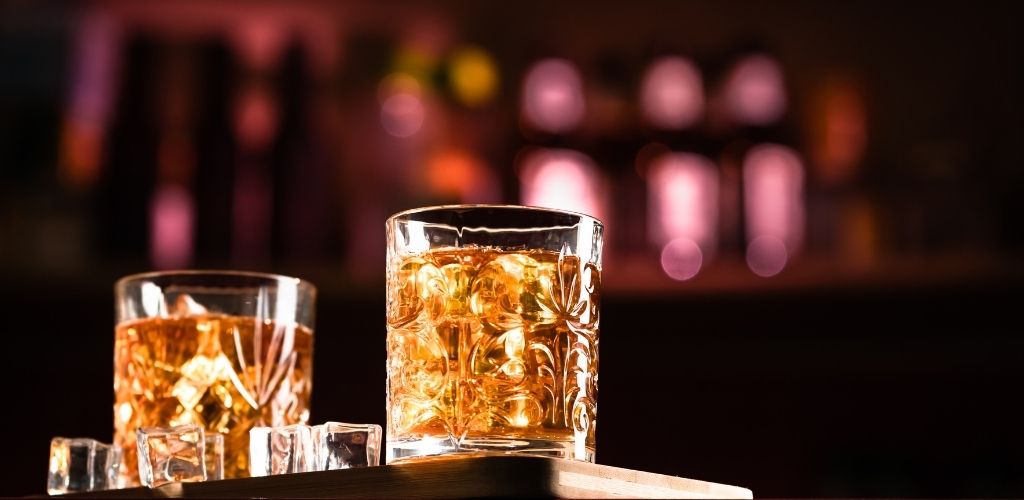 Legend has it that The Hideout was once a hoard for thieves, highwaymen, and scoundrels. A small hole in the wall, with a wood-lined bar buried in the cobbled streets of Bath's center. A refuge in plain sight for those seeking a warm whiskey, reprieve from the law, and like-minded banter with fellow opportunists.
Today, the bar stands as a terrific homage to its history and is one of the best whiskey bars in Bath. Averaging around 300 whiskeys in stock, check in with the knowledgeable staff if there's a particular one you're looking for because there's a good chance they'll have it!
I love The Hideout for its story, but the thing I enjoy the most overall is the atmosphere of the bar. The thieves and scoundrels have all thankfully been shipped off to jail and it's a cool central bar to knock back a few whiskeys on the rocks.
The Hideout Information
Address: 1 Lilliput Court, Bath BA1 1ND, United KingdomOperating Hours: 5 pm – 11 pm Mon-Thurs, 4 pm – 11 pm Fri & Sun, 2 pm – 11 pm SatMust-Try Items: Find your new favorite whiskey from their extensive selection of over 300 different choices. Chat with the bartenders about the history of the building you're in and be regaled by some truly scandalous tales.Average Cost: $9 – $12 cocktails, $7 and up for whiskeys, $30 flights of whiskey, $7 – $8 beersWebsite: hideoutbath.co.uk
8. The King of Wessex (Best for Cheap Drinks)
Is it a bar or is it a pub? You can be the judge, but I consider The King of Wessex to fall somewhere in between. If you're taking a trip to the UK, you definitely need to get yourself familiarized with the British pub chain Wetherspoons. They have over 900 locations across the UK and offer some of the cheapest prices you're likely to see anywhere.
A 'Spoons' or a 'Wethers', (depending on whether you're from the north or south of England), is a great option for exceptionally affordable beers, cocktails, wine, and spirits. They also have a pretty extensive food menu that's equally great value for money, especially as most options include a free drink.
Most cities have a few Spoons' (I'm from the south) with varying degrees of quality. Bath's is not the prettiest I've visited, but it absolutely does the job for quick and easy food and cheap pre or post-drinks. It's situated just a short walk from the main hub of the city center and is very close to the Bath Brew House.
The King of Wessex Information
Address: 5-10 James St W, Bath BA1 2BX, United KingdomPhone: +441225303380Operating Hours: 8 am – 12 am Mon-SunMust-Try Items: If you like traditional English ales, you'll find the cheapest pints around here. Their regularly rotating taps allow you to sample some great local beers. Liquor drinks are also ridiculously cheap and come with a mixer included in the price. Average Cost: $2.50 – $6 per pint, $4 – $8 wine and cocktails, $5 – $15 appetizers, lunch, and dinner platesWebsite: jdwetherspoon.com
9. Circo – Cellar Bar (Best Speakeasy Vibe)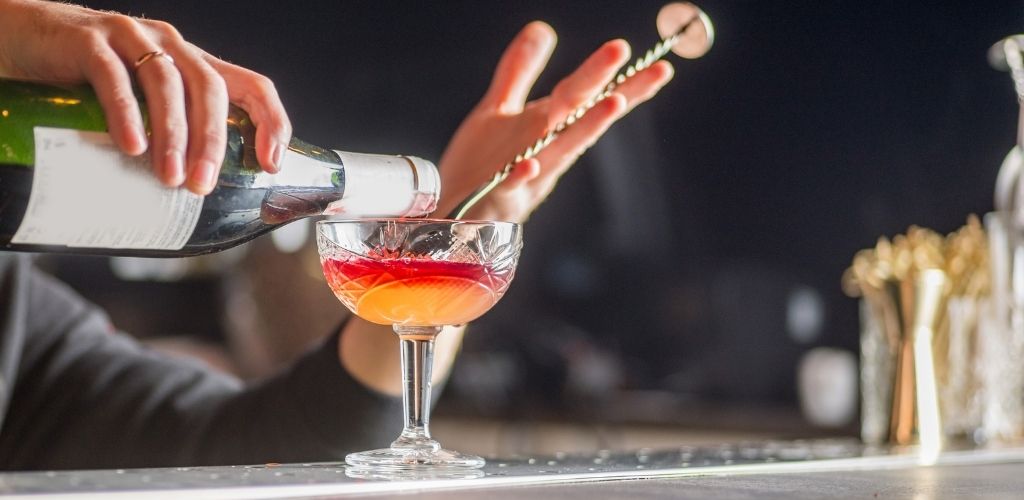 I didn't come across a speakeasy in Bath but Circo comes pretty close. The cocktail bar/club is situated in a Georgian building in the basement of a hotel which gives it a real vintage vibe. It certainly has that speakeasy feel to it with a classy circular bar, vaulted ceilings, and large luxurious sofas.
You can enjoy some great cocktails throughout the week and get an excellent deal on them too. It's 2 for $17 on select cocktails all day Monday through Thursday and before 9 pm on Friday and Saturday.
Circo After Dark kicks off at 9 pm every Friday and Saturday, when the lounge area becomes a dancefloor and the nights feature a host of DJs spinning a variation of beats.
I'd consider Circo to be one of the classier bars in Bath. It's a place where you can enjoy some fine drinks in a very cozy and comfortable setting. After Dark turns brings a slightly different vibe but it still oozes with sophistication.
Circo – Cellar Bar Information
Address: 16 George St, Bath BA1 2EN, United KingdomPhone: +441225465905Operating Hours: 6 pm – 12 am Mon-Weds, 6 pm – 1 am Thurs, 5 pm – 2 am Fri, 3 pm – 3 am Sat, closed SundayMust-Try Items: Be sure to capitalize on the 2 for $17 select cocktails. There's a whole lot of them included in the offer, just look out for the pineapple symbol on the drinks menu.Average Cost: $10 – $12 per cocktail, $5 – $7 per beer, $6 – $8 glasses of wineWebsite: circobar.co.uk
10. Moles (Best for Live Music)
Continuing on the cellar theme, but with a very different ambiance to Circo – I give you Moles. This tiny basement bar is known as one of the premier live music bars in Bath. Open since 1978, it's earned legendary status after being graced by some all-time great performers. The likes of Oasis, Radiohead, and The Smiths, to name but a few have all performed at Moles.
You can catch live music and events here 6 nights a week. There's everything from local performers to top international cover bands as well as drag shows and quizzes about Grey's Anatomy on the current event calendar – be sure to check out what's on before your trip.
Friday and Saturday evenings are dedicated club nights with DJs mixing a number of genres that will appeal to all. Genre-specific club nights also occur a couple of times a month. Moles is great for watching bands and thanks to its late opening hours, it's one of the great after-hours clubs in Bath too.
Moles Information
Address: 14 George St, Bath BA1 2EN, United KingdomPhone: +441225437537Operating Hours: 10 pm – 3 am Mon-Thurs, 10 pm – 4 am Fri & Sat, closed SundayMust-Try Items: Check out the events page to find a great live music event to attend. Every Friday night before midnight select shots and bombs are available for 99p ($1.20).Average Cost: $5 – $7 beers, $10 – $13 cocktailsWebsite: moles.co.uk
11. Kingsmead Street Bottle (Best Craft Beer Bar & Bottle Shop)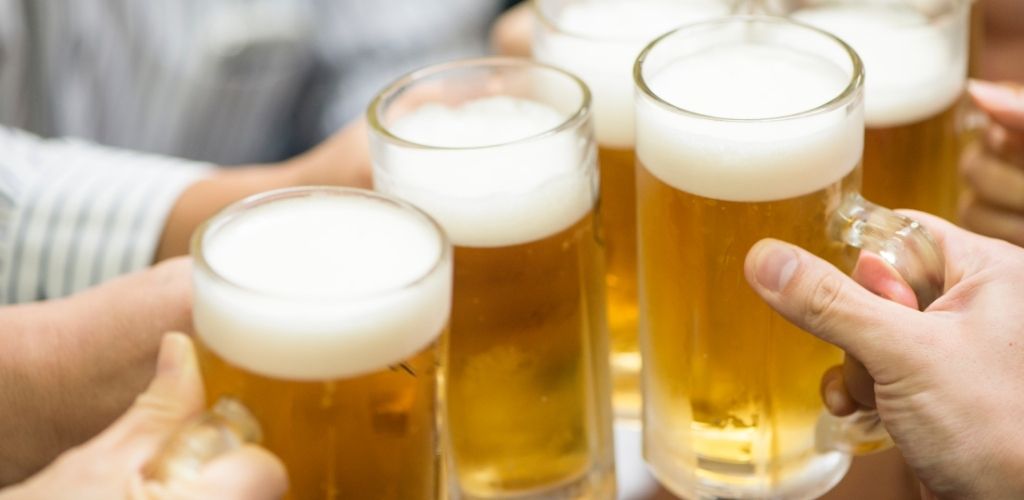 If you like sampling different craft beers and then having the option to take a few away, Kingsmead Street Bottle may be the perfect place for you. The small and very relaxed space is one of my favorite craft beer bars in Bath. They always have a huge number of different beers, fine ciders, and natural wines available at the bar and for takeaway.
But beer isn't their only love, oh no. At Kingsmead Street Bottle they also love cheese and their artisan organic cheese boards are the quintessential accompaniment to your drink.
The front street-side seating is a nice place to relax and people-watch on a sunny day. They also have a sister pub – Palmer Street Bottle – in nearby Frome and a mobile horsebox bar that services events and private functions.
Kingsmead Street Bottle Information
Address: 2 Kingsmead St, Bath BA1 2AA, United KingdomOperating Hours: 2 pm – 10 pm Mon-Wed, 12 pm – 11 pm Thurs-Sat, 12 pm – 8 pm SunMust-Try Items: You won't struggle to find a great beer to your liking but be sure to have some cheese too. Go large and have a charcuterie board to try a bit of everything.Average Cost: $6 – $8 beers, wines, and ciders, $10 – $12 cocktails, $8 – $15 cheese and charcuterie boardsWebsite: kingsmeadstbottle.co.uk
12. Tapas Revolution (Best Happy Hour)
One of the best cocktail bars in downtown Bath, (the area my husband and I affectionately refer to the area around the train station), is Tapas Revolution. We walked past this place most days and the food always looked delicious. Upon taking a closer look we also saw they offered a great happy hour and that the inside hides a really cool bar.
After our first visit, it soon became one of our favorite spots, especially at 'aperitivo time'. At Tapas Revolution, you can pick up two glasses of sangria, two cocktails, or two gin and tonics for $12 between 4 pm and 6 pm every day. The decor, aroma, and music create an ambiance that whisks you off to Spain as soon as you set foot through the door.
They also have a small outdoor patio area that looks onto a popular pedestrianized side street. It's a great location for watching the world go by with a cocktail in hand. Be sure to sample some tapas too, the food here is really good.
Tapas Revolution Information
Address: 20A St Lawrence St, Bath BA1 1AN, United KingdomPhone: +441225312917Operating Hours: 11 am – 10 pm Mon-Thurs, 11 am – 11 pm Fri & Sat, 12 pm – 9 pm SunMust-Try Items: Be sure to get down for happy hour between 4 pm and 6 pm every day for some great deals on drinks. The tapas are delicious too, I loved their chicken wings.Average Cost: $6 – $9 beer and glasses of wine, $10 – $12 per cocktail, $8 – $12 tapas dishesWebsite: tapasrevolution.com/bath
13. Flan O'Briens (Best Irish Bar)
Some of the best nightlife in Bath can be found around Kingsmead Square. There are several great bars, pubs, restaurants, and popular hole-in-the-wall style eateries within a few steps of each other. It's also the location of the excellent Flan O'Briens Irish Bar.
Purporting to have been a pub longer than the USA has been a country, and advertising the 'best Guinness in Bath', it's safe to say Flan O'Briens knows what it's about. The decor is in the traditional Irish bar/pub style and there's a great front beer garden that looks out over the square. They don't serve food but guests are welcome to bring their own.
Expect a jovial and boisterous crowd at times, especially at weekends as larger groups descend on Bath. The atmosphere is always welcoming and friendly though, with folks predominantly just looking for a few pints and a good craic.
Flan O'Briens Information
Address: 21 Westgate St, Bath BA1 1EP, United KingdomPhone: +441225312914Operating Hours: 11 am – 11 pm Mon – Sat, 11 am – 10 pm SunMust-Try Items: They do serve an excellent pint of Guinness, I haven't sampled every Guinness in Bath to say it's the best but I imagine it's up there. Get a seat out front and enjoy the lively atmosphere and busy thoroughfare that is Kingsmead Square. Average Cost: $5 – $9 beers, glasses of wine, and liquor drinksWebsite: flanobrien.com
14. Las Iguanas (Best All-Day 2-for-1 Cocktails)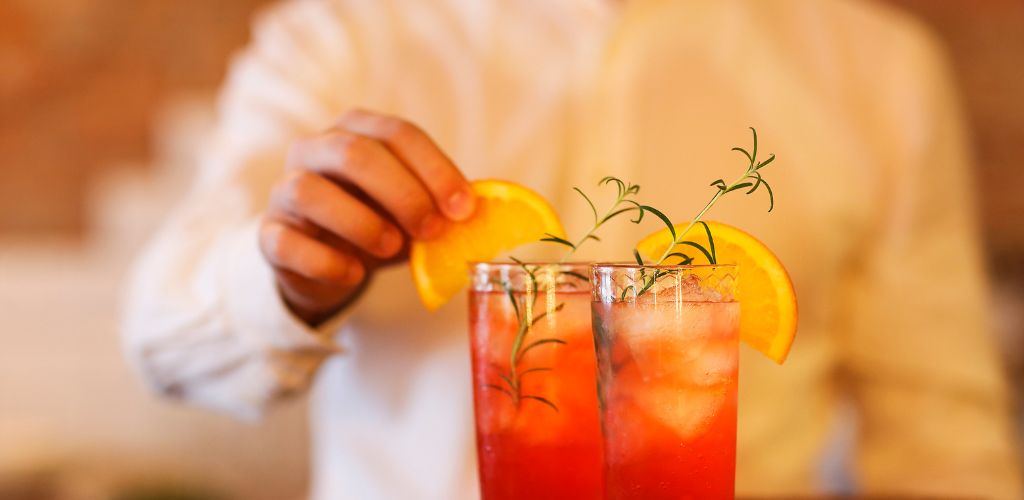 Predominantly known as a casual Latin-American-style restaurant, Las Iguanas' excellent all-day deals on cocktails make them a great option for just drinks too. From open to close every day of the week patrons can get two cocktails for as little as $12, which is an excellent deal for such a cool, centrally located bar.
The restaurant chain that began in the 90's in nearby Bristol, now has over 50 locations across the UK. The decor matches the food in being Brazillian, Mexican, and Latin-American themed. You're welcome to sit at the bar and just partake in drinks, but the food is good too, so grab a table if you're hungry.
Las Iguanas also offers a 2-hour bottomless brunch 7 days a week. You have to book online to reserve your slot but costing around $40, it's a really good deal.
If you're planning a boozy group event, what better way to kick things off than with unlimited cocktails, beers, liquor, and some delicious food? There's also a late-night brunch, which offers last seating at 9 pm, Sunday to Thursday.
Las Iguanas Information
Address: 12 Seven Dials, Bath BA1 1EN, United KingdomPhone: +441225982906Operating Hours: 11 am – 10.30 pm Sun-Thurs, 11 am – 11.30 pm Fri & SatMust-Try Items: Simply take a seat at the bar and enjoy the 2-for-1 cocktail menu. Their bottomless brunch is a great deal too and if you're going to eat, I recommend the chicken burrito.Average Cost: $12 for 2 cocktails, $5 – $8 beers, glasses of wine, and liquor drinks, $10 – $25 extensive menu of tapas, small bites, brunch, lunch, and dinner platesWebsite: iguanas.co.uk/restaurants/bath
15. The Bath Distillery Gin Bar (Best for Gin and Martinis)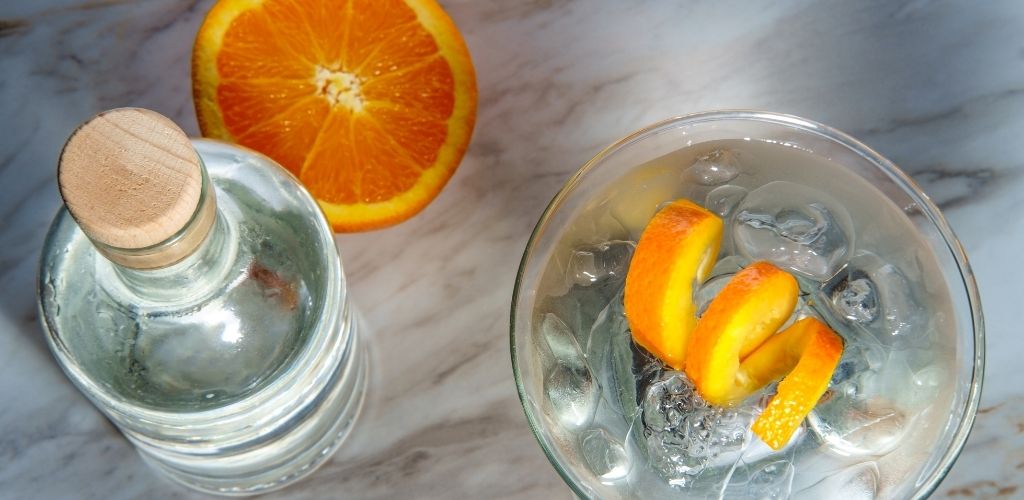 If, like me, you're a fan of gin, then you need to head to one of the most trendy bars in Bath. The Bath Distillery Gin Bar is a classy place that stocks around 230 varieties of gin, each paired with its own mixer. If you're not sure what to go for, simply ask some of the best mixologists in town for advice and they'll make you a drink that you're sure to love sipping on.
The sleek setting complete with an upstairs martini bar is perfect for a few early evening cocktails. Located on one of Bath's most famous cobbled streets – Queen Street – the entire area screams history, sophistication, and culture. Look out for Peter, the owner, he's an interesting guy with many Bath, and gin-based stories to tell.
The Bath Distillery Gin Bar Information
Address: 2/3 Queen St, Bath BA1 1HE, United KingdomOperating Hours: 5 pm – 12 am Mon-Thurs, 12 pm – 12 am Fri & Sat, closed SundaysMust-Try Items: Be sure to sample a cocktail made from their own in-house gins. The Wylde Flower is very refreshing. Average Cost: $10 – $12 per cocktail, $6 – $7 beer, $8 – $10 glasses of wineWebsite: thebathgincompany.co.uk
Bath Bars: FAQs
Here are some answers to commonly asked questions about the best bars in Bath, UK:
What are the best bars in Bath?
There are several great bars in Bath. Being a university city, as well as a hub for tourists from around the world, there are plenty of excellent bars to suit any itinerary.
The Bath Brew House with its colorful all-weather beer garden and Ludo Sports Bar and Kitchen with its panoramic roof terrace are a couple of really great bars to visit.
Do you tip in Bath?
When it comes to ordering drinks at a bar, it's not the norm to leave a tip for the bartender, although it's always appreciated if you choose to do so.
However, it's slightly different when dining in a restaurant. Here, it's customary to leave a gratuity, but even then, it's not as common as it is in some other places – 10% is an accepted round figure for good service.
What neighborhood has the best bars in Bath?
The best neighborhood for bars in Bath has to be the city center. This covers quite a significant area, but with everywhere being so walkable you'll find that several great bars are within easy reach of one another.
Head to Kingsmead Square as a good starting point in town. From here, you'll be a few minute's walk from some really nice bars.
Does Bath have good craft beer?
Bath has excellent craft beer and a number of excellent craft beer bars. A couple of notable ones worth checking out if you like craft beer are Brewdog Bath and Kingsmead Street Bottle. These are two excellent locations serving a range of different craft beers.
How much is an average beer in Bath?
The price of an average beer can vary from bar to bar. But expect to pay anywhere between $5 and $7 for a pint. Traditional English ales are generally on the cheaper side of things, whereas craft lagers will often be more pricey.
Does Bath have good nightlife?
Bath has a terrific nightlife scene. With two universities and a popular tourism presence, there's always plenty going on in Bath. Expect to see everything from club nights to live gigs and happy hours all across the city.
What's the best wine bar in Bath?
The best wine bar in Bath is Vino Vino. Their extensive 64-page menu has wines that will suit all budgets and palates. It also has a terrific front patio area and a food menu featuring some great charcuterie boards and snacks that go great with wine.
Does Bath have nightclubs?
Bath is home to a few nightclubs and bars that are open late (or early depending on how you look at it!).
If you like club nights and cocktails head to Circo; a great basement bar with a mix of genres and some excellent mixed drinks. Moles is a famous club for live music and events, it is open until 4 am on Fridays and Saturdays.
In Conclusion
Well, I certainly fancy a cocktail, I hope you do too. Bath is a great city for day drinking and nightlife with so many options available. In many ways, this was an easy list to get together because there are so many great bars in Bath, lots just didn't make the cut!
The nature of the city lends itself to being a cool location for drinking and having fun. The weekends are always busy and the city can feel electric. With so many great bars in Bath to choose from, you'll have no problem finding the ideal one for you. Cheers.