I've put together a list of 15 spots where you'll find the best BBQ in Durham, NC. I recently spent 3 months housesitting in North Carolina and I got to know the local food scene really well. BBQ is a big deal in that part of the world, and there's no shortage of great places to eat.
I was also lucky enough to become friends with a local resident who was once an official reviewer of BBQ food in the local region. She gave me some amazing insights into places off the beaten track and shared with me where to find the best BBQ restaurants in Durham.
North Carolina BBQ is cooked in its own distinct way. It's traditionally pork-based and cooked slow and low in a vinegary tomato sauce. This gives the meat a slightly sweeter taste and sets it apart from the BBQ of other states. As well as the local traditional style, you'll find all kinds of BBQ in Durham.
15 Best BBQ Restaurants in Durham
After eating my way through Durham for 3 months, and with the helpful knowledge of my friend Holly-Anne (the former BBQ reviewer), I've put together my top 15 BBQ places in Durham.
I considered several factors as the competition is pretty fierce. Everything from price, location, quality, atmosphere, and service has been taken into consideration to name what I consider to be the best 15.
1. The Blue Note Grill(Best BBQ Restaurant in Durham)
Renowned for its live music as well as its food, the Blue Note Grill is one of my favorite places to visit in general, and not just for the BBQ. They have an extensive menu filled with BBQ delights. It's one of those menus that begs some careful consideration because it all looks so good! For me, it's one of the best restaurants in Durham, overall.
They serve excellent pulled pork sandwiches, exquisite burgers, and combo plates featuring an extensive number of side dish options. But for me, The Blue Note is where you'll find the best ribs in Durham. I was lucky enough to eat ribs at the historic Rendevouz in Memphis a few months prior, and the ribs here certainly compete.
The addition of live music 5-nights-a-week and a cool bar with great rotating beer tap options makes the Blue Note a really popular spot. It is well-loved by locals and tourists alike.
The Blue Note Grill Information
Address: 709 Washington St, Durham, NC 27701, United States. Click here for directions.Phone: +19194011979Operating Hours: 11 am – 10 pm Tuesday-SaturdayMust-Try Meals: The full rack of ribs with two sides and hush puppies is an absolute feast – enough for two or someone very hungry. The Brunswick stew is also great here – a tomato-based stew with 3 pulled meats and lots of veggies. Delicious.Average Cost: $5-$10 per starter, $15-$25 per main, $3-$8 for dessertsWebsite: thebluenotegrill.com
2. Maverick's Smokehouse & Taproom
(Best Lunchtime Deal)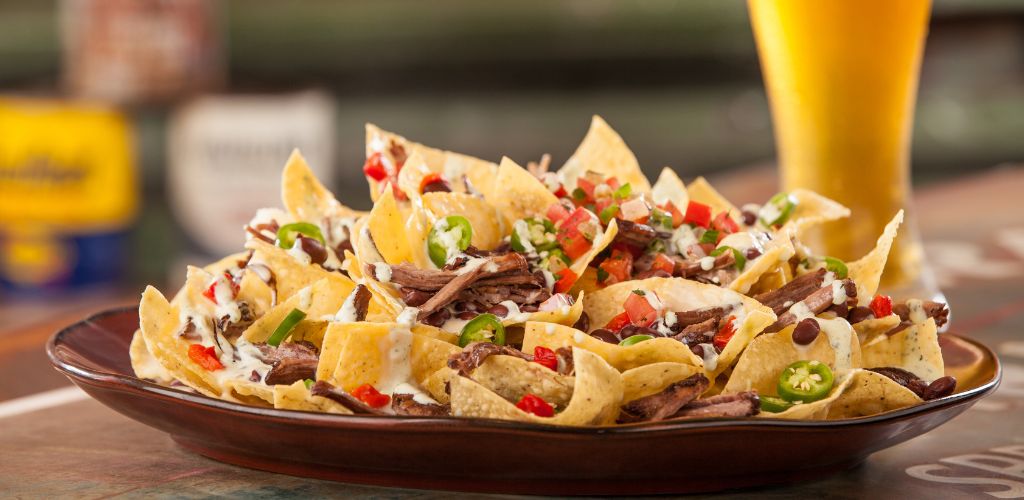 I called Maverick's my local for 3 months; it was just a few minutes walk from where I was staying in Trinity Park. Luckily for me, it serves some of the most affordable BBQ in Durham. Their lunchtime 'Hard Workin' Special' is hard to beat anywhere else in the city.
Tuesday to Thursday lunchtime you can get a pulled pork sandwich, two sides, and a fountain drink for $11.99 – a real bargain. The quality is really good too and they have a large outdoor patio that looks out over the Brightleaf building.
Their extensive menu covers all the BBQ bases, and the brisket nachos are fantastic. So, if you're looking for some cheap, high-quality BBQ in Durham, look no further than Maverick's.
Maverick's Smokehouse and Taproom Information
Address: 900 W Main St, Durham, NC 27701, United States. Click here for directions.Phone: +19196828978Operating Hours: 11 am – 9 pm Sunday-Thursday, 11 am – 10 pm Friday & SaturdayMust-Try Meals: Grab yourself a bargain lunch and have the 'Hard Workin' Special'. Try the brisket nachos, they're really good.Average Cost: $8-$10 per starter, $9-$12 sandwiches and dinner plates, $16-$19 combo platesWebsite: maverickssmokehouse.com
3. The Original Q Shack
(Best Casual Eatery)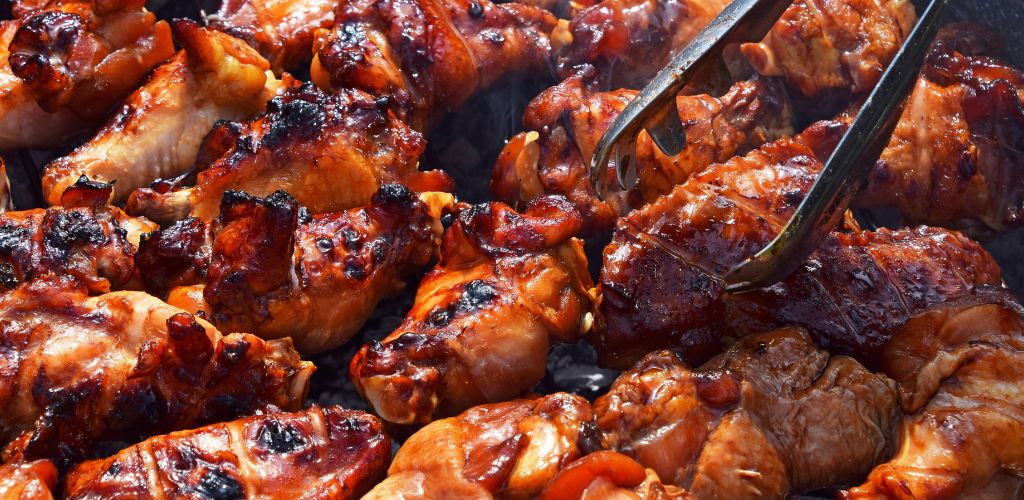 For two decades a husband and wife duo have been serving up some of the best BBQ in Durham NC. The Original Q Shack was founded in 2003 by Dan Ferguson and his wife Amanda and their team has been dishing up amazing BBQ, brisket, turkey, chicken, and sides from scratch since.
This casual and relaxed restaurant has a really nice festoon-laden outdoor seating area along with a bright and vibrant indoor setting. The staff is always super friendly, the service is quick, and the portions are definitely on the larger side.
If you're hungry, try the 3 meat combo plate – you'll do well to finish it.
The Original Q Shack Information
Address: 2510 University Dr, Durham, NC 27707, United States. Click here for directions.Phone: +19194024227Operating Hours: 11 am – 8 pm Tuesday-Thursday, 11 am – 9 pm Friday & Saturday Must-Try Meals: The 3 meat combo is a hearty meal that ticks a lot of BBQ boxes in one dish. The smoked buffalo wings are really good too.Average Cost: $8-$16 meat plates and sandwiches, $19-$23 combo plates, $3-$13 side dishesWebsite: theoriginalqshackdurham.com
4. Moe's Original BBQ
(Most Unique BBQ Experience)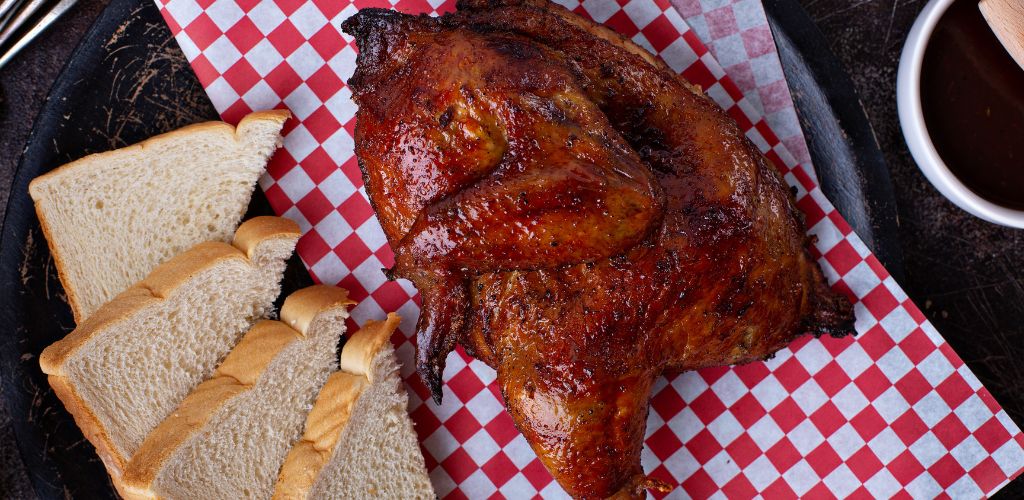 Offering a slightly different approach to the popular North Carolina style of BBQ, Moe's Original BBQ is a unique BBQ restaurant in Durham and a great place to experience a style of cooking from the Deep South. The small southern chain of restaurants began in Alabama in 1988 and now has over 50 locations in the US.
The differences between the Alabama and North Carolina styles of BBQ are subtle. Both predominantly use pork, but it's in the sauces where you'll find the most difference. North Carolina BBQ has a sweeter, tangier red sauce, whereas the Alabama offering has more of a bold and balanced spice to it and also comes with a mayo-based white sauce for dipping.
Moe's has a great rustic vibe to it that makes you feel you're in the right place to eat good BBQ food. The menu isn't as extensive as in other places I've seen but everything they make is terrific.
Moe's Original BBQ Information
Address: 2014 Hillsborough Rd, Durham, NC 27705, United States. Click here for directions.Phone: +19192371004Operating Hours: 11 am – 8.30 pm Monday-Thursday, 11 am – 9 pm Friday & SaturdayMust-Try Meals: Try the smoked half chicken with Alabama-style white BBQ sauce and pickles. Head down on a Monday for trivia night and deals on wings and drinks when you dine in.Average Cost: $10-$13 sandwiches, $12-$16 lunch and dinner plates, $2-$8 side dishesWebsite: moesoriginalbbq.com/durham
5. Bullock's Bar-B-Cue
(A Durham Institution)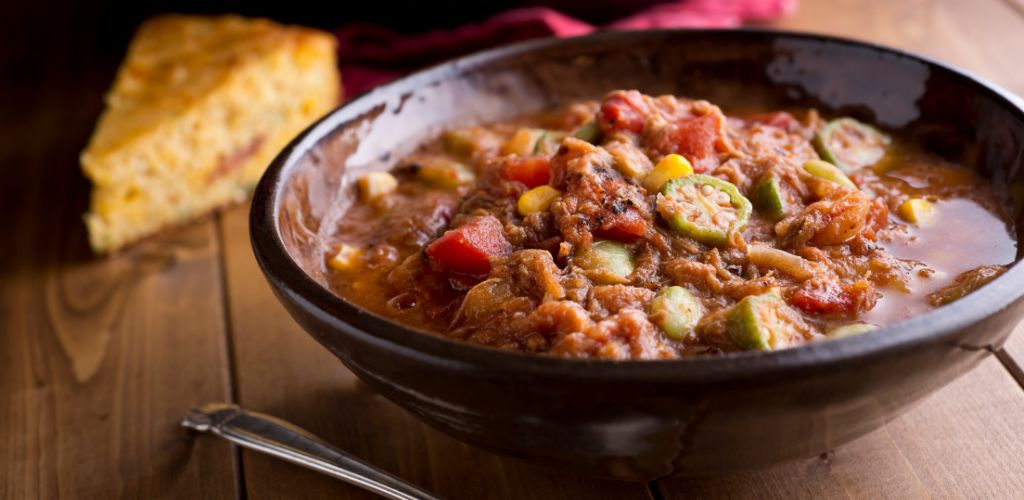 One of Durham's most well-known barbecue restaurants is Bullock's Bar-B-Cue – it's served food to the local community for over 80 years! The restaurant changed location as it grew but has been at its current site since 1970.
This family-owned restaurant has an all-encompassing menu offering all the usual BBQ favorites. They offer great sandwiches, meat plates, burgers, and hot dogs. Their bread bowls are unique and delicious and comprise a large hollowed-out roll filled with clam chowder, Brunswick stew, or beef stew.
Bullock's goes the extra mile with its dessert menu, too. They have several delicious pies, puddings, cobblers, and homemade cakes always available. Their wall of fame, showcasing the celebrities that have stopped by, should give you an idea of the restaurant's popularity.
Bullock's Bar-B-Cue Information
Address: 3330 Quebec Dr, Durham, NC 27705, United States. Click here for directions.Phone: +19193833211Operating Hours: 11.30 am – 8 pm Tuesday-SaturdayMust-Try Meals: Try the Brunswick stew bread bowl – a mix of three types of meat stewed and loaded into a hollowed-out bread roll. Don't forget dessert – the options at Bullock's are all excellent. Average Cost: $3-$13 hot dogs, sandwiches, and burgers, $13-$25 specials, dinner plates and combos, $3-$6 dessertsWebsite: bullocks-bbq.com
6. Picnic
(Best Pork BBQ)
I have to credit my friend and former competitive BBQ judge Holly-Anne for suggesting Picnic – I wouldn't have come across it without her insider knowledge. It's such a great place to eat and surely one of the top BBQ restaurants in Durham.
Picnic was voted by Time Magazine as one of the top 8 BBQ spots in the Carolinas.
It proudly serves whole hog BBQ – essentially the whole pig, wood smoked low and slow, hand-pulled, and then served in a traditional NC sauce. It really is some of the best BBQ pork you'll ever eat. Other delicious dishes include smoked buttermilk fried chicken, blackened NC catfish, and fried oysters.
Picnic also has many rotating beer taps, IPAs, cans, ciders, and craft drink options available and doubles up as a pretty great taproom too.
Picnic Information
Address: 1647 Cole Mill Rd, Durham, NC 27705, United States. Click here for directions.Phone: +19199089128Operating Hours: 11 am – 8 pm Wednesday-MondayMust-Try Meals: Order the whole hog BBQ, either as a plate or as a sandwich, and be sure to enjoy their rotating beer taps and excellent drink options. Average Cost: $12-$15 sandwiches, plates, and combos, $3.50-$5 side dishesWebsite: picnicdurham.com
7. It's a Southern Thing
(Best Chicken Wings)
Located in the heart of Durham's Warehouse District, It's a Southern Thing resides in a chic industrial building and serves some truly spectacular food. The menu specializes more in Southern cuisine than simply BBQ, but rest assured the guys here are cooking up some of the best BBQ around.
It's a Southern Thing deserves to be on the list for their signature smoked chicken wings alone. They also offer them as fried and crispy but I believe the smoked option is the one to go for. With a choice of sauces, and some great sides on the menu to choose from, it's just one of a number of delicious options available.
The cool bar is a great place to hang out, and the general ambiance of the restaurant is very homely and inviting. There's a feeling of true Southern hospitality as soon as you walk through the door.
It's a Southern Thing Information
Address: 605 W Main St, Durham, NC 27701, United States. Click here for directions.Phone: +19192949632Operating Hours: 10.30 am – 2 pm, 4 pm – 9 pm Monday-Friday, 10 am – 2 pm, 5 pm – 9 pm Saturday, 10 am – 2 pm SundayMust-Try Meals: A pound of their signature smoked wings, Carolina BBQ sauce with collard greens, and cheddar grits as the two sides. It's about as southern as you can get.Average Cost: $8-$16 brunch, lunch, and smaller plates, $6 side dishes, $16-$23 larger dinner platesWebsite: getsouthernfood.com
8. Hog Heaven Bar-B-Q
(Best Value for Money)
The delightfully named Hog Heaven Bar-B-Q is a great option if you are looking for affordable BBQ in Durham. It's a back-to-basics set-up with no frills when it comes to decor, but an emphasis on good BBQ, and lots of it.
Their lengthy menu has all the bases covered; with everything from flounder and catfish to BBQ chicken and stew. The prices are some of the cheapest around and the portion sizes are particularly generous.
Don't be misled by the drive-thru window and fast food vibe of the place. The quality is good, and many locals have Hog Heaven as their weekly go-to BBQ restaurant.
Hog Heaven Bar-B-Q Information
Address: 2419 Guess Rd, Durham, NC 27705, United States. Click here for directions.Phone: +19192867447Operating Hours: 11 am – 8 pm Monday-SaturdayMust-Try Meals: The large pork BBQ plate (it comes with two veggie options and hushpuppies), and the pork chop sandwich at $5.30 is a delicious bargain. Average Cost: $5-$6 sandwiches, $8-$11 dinner plates, $2-$3 dessertsWebsite: facebook.com/p/Hog-Heaven-Bar-B-Q
9. City Barbeque
(Best Rewards Program)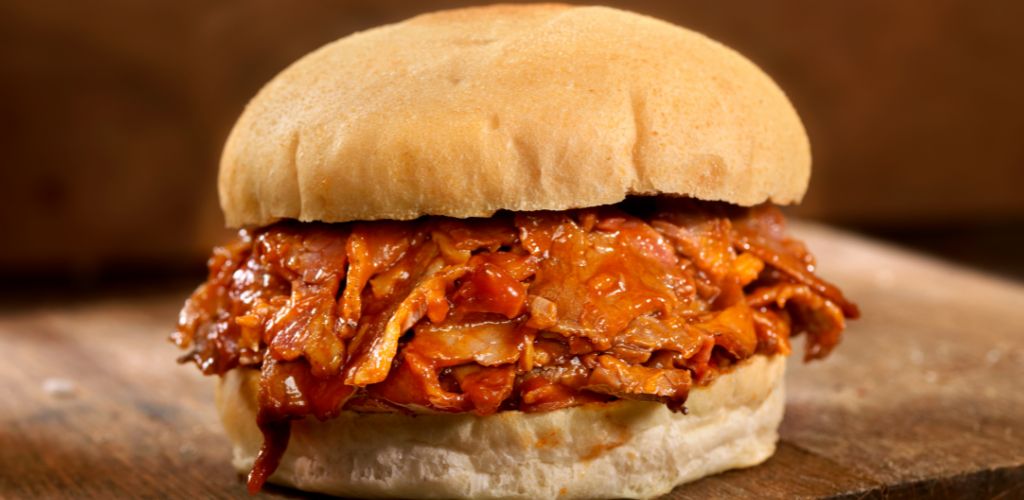 City Barbecue reminds me of some of the great Texas-style BBQ restaurants I've visited in the past. With counter service, a huge supply of help-yourself condiments and sauces, as well as a roll of paper towels on each table, this place is all about getting stuck into the food.
Their brisket is off the charts, and with their company tagline of 'competition quality barbeque', you'd expect nothing less than exceptional meat every time. You can smell the smoke around the clock as they never turn off the three smokers on site. That's right, they are cooking 24 hours a day.
City Barbeque deserves special mention for its rewards program. It's free to join and members obtain points for every dollar spent as well as great monthly bonuses. One reward available recently saw members get $3 credit on orders over $10, every day of the month. You also receive $5 for using their app for the first time.
City Barbeque Information
Address: 208 W North Carolina 54, Durham, NC 27713, United States. Click here for directions.Phone: +19192379509Operating Hours: 11 am – 9 pm Sunday-Thursday, 11 am – 10 pm Friday & SaturdayMust-Try Meals: The beef brisket sandwich is fantastic, but if you're feeling hungry definitely go for any of the sampler plates.Average Cost: $8-$12 sandwiches, $18-$35 samplers, $3-$5 sides and dessertsWebsite: citybbq.com
10. GRUB Durham
(Best Rooftop BBQ)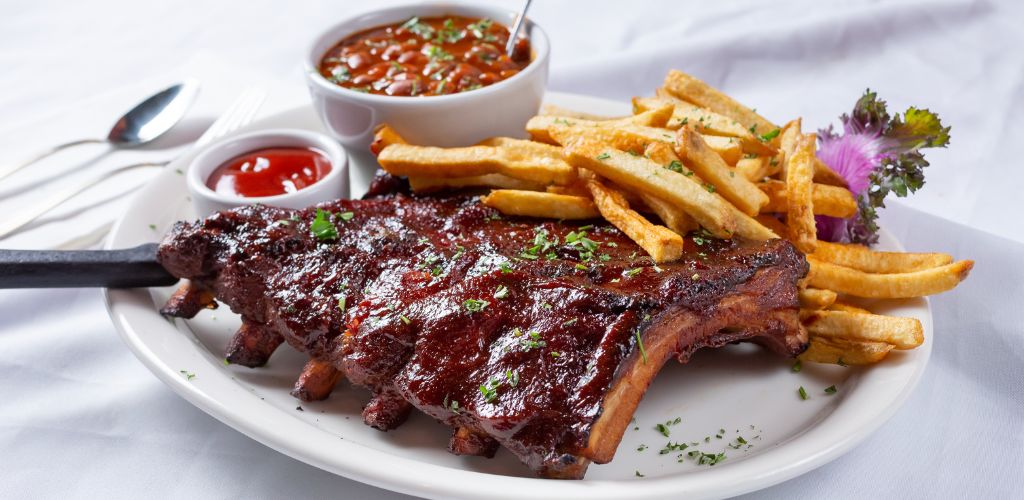 You won't find many nice BBQ restaurants in Durham with a rooftop view, but an old gas station turned Southern eatery is the place to go if that's what you're after. GRUB also features a nice patio and a cool bar area which gives it a really chilled atmosphere.
GRUB has a lengthy menu of Southern-influenced delights; from burgers and stews to salads and shakes. But if you're looking for BBQ, then their Blue Plate Specials are what you need. More specifically, the smoked ribs (half or whole), served with a twice-smoked baked potato smothered in sour cream, bacon, and cheese. Simply delicious.
GRUB Durham Information
Address: 1200 W Chapel Hill St, Durham, NC 27701, United States. Click here for directions.Phone: +19199733636Operating Hours: 9 am – 3 pm Monday-Thursday, 9 am – 3 pm, 5 pm – 7 pm Friday-SundayMust-Try Meals: Try the Blue Plate Specials, especially the ribs. I've also heard great things about their BBQ chicken wings. Average Cost: $8-$10 burgers and sandwiches, $5-$10 salads, soups and stews, $10-$14 Blue Plate SpecialsWebsite: grubdurham.com
11. Clyde Cooper's Barbeque
(Best Out-of-Town BBQ)
Although there are plenty of traditional BBQ restaurants in Durham, Clyde Cooper's in neighboring Raleigh is well worth a short trip for some sensational food and a slice of history. This North Carolina institution has been in downtown Raleigh since 1938, recently celebrating 85 years of serving Carolina-style slow-cooked, pork, brisket, and chicken.
Around a 30-minute drive from Durham, Clyde Coopers is advertised as being among the top 10 BBQ restaurants in America. The vintage countertops and classic memorabilia that line the walls make for a setting that's like stepping back in time.
With over 8 decades of cooking experience and know-how, the BBQ is of course, exceptional. The overall experience is pretty unique too and absolutely worth the short hop from Durham for a visit.
Clyde Cooper's Barbeque Information
Address: 327 S Wilmington St, Raleigh, NC 27601, United States. Click here for directions.Phone: +19198327614Operating Hours: 11 am – 4 pm Tuesday & Wedsday, 11 am – 4.30 pm Thursday & Saturday, 11 am – 5 pm FridayMust-Try Meals: If you're making a trip over from Durham, go the whole hog and have a combination tray – a choice of two types of meat, two veg options plus hush puppies and fresh pork skins.Average Cost: $13-$17 trays, $16-$20 dinner plates, $19-$25 combination plates, $6-$9 stews and sandwichesWebsite: clydecoopersbbq.com
12. Byrd's BBQ Restaurant
(Best Breakfast)
Who says BBQ is just for lunch or dinner? Byrd's is open from 7 am and offers a fantastic range of breakfast and brunch options. The menu has everything from straightforward breakfast sandwiches to meat plates featuring eggs, grits, pancakes, and French toast.
The cute building is somewhat of a local landmark having been situated on the same site since 1959. Originally a producer of BBQ products for other stores, Byrd's was later converted into a restaurant and run by the same family for 17 years. It was taken over by two new local owners in 2023 who hope to expand the legacy of Byrd's even further.
Byrd's BBQ Restaurant Information
Address: 2816 Cheek Rd, Durham, NC 27704, United States. Click here for directions. Phone: +19195301839Operating Hours: 7 am – 5 pm Monday-Friday. Closed weekends.Must-Try Meals: The turkey sausage breakfast sandwich with an added fried egg will certainly set you up for the day. The breakfast bowl with grits, cheese, egg, and a choice of meat is a true Southerner's choice.Average Cost: $4-$6 breakfast sandwiches, $6.50-$13 breakfast plates, $7-$15 lunch and dinner sandwich and plate optionsWebsite: byrdsbbq.com
13. Mike D's BBQ Smokehouse & Retail
(Best Dry Rub)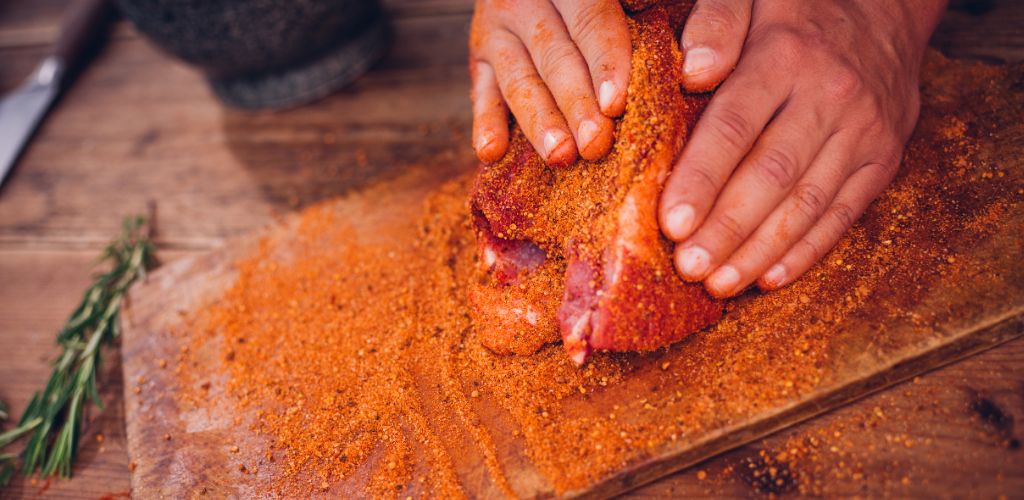 Multiple restaurants offer award-winning barbecue in Durham, North Carolina, perhaps none more so than at Mike D's Smokehouse.
To date, the restaurant has notched up 19 notable accreditations, including a 2nd place in the 2019 World Hot Sauce Awards and the top prize at the 2021 International Artisan Flavor Awards for their sweet and spicy rub.
As well as a retail store that sells everything from their own branded sauces and rubs to full-sized grills, their smokehouse cooks up a straightforward menu of BBQ delights. The pulled pork, chicken, or brisket sandwiches are generously filled with perfectly smoked meat. The plate options come with two side dishes and are perfect if you've brought a big appetite.
Mike D's Smokehouse & Retail Information
Address: 455 S Driver St, Durham, NC 27703, United States. Click here for directions.Phone: +18669608652Operating Hours: 11 am – 3 pm, 5 pm – 9 pm Wednesday-Friday, 11 am – 9 pm Saturday, 11 am – 8 pm SundayMust-Try Meals: All the meat is good but be sure to ask for their award-winning spicy BBQ sauce and the sweet and spicy dry rub. Average Cost: $7-$10 sandwiches, $17-$25 plates, $5 sides and dessertsWebsite: mikedsbbq.com
14. Danny's Barbeque
(Best Florida-Style BBQ)
Offering a variation to the NC-style barbeque that you'll find a lot of in Durham, Danny's brings a taste of Florida-influenced cooking to the city.
With more emphasis on Caribbean fruits, herbs, and spices, the difference between the much sweeter Florida style of BBQ and the traditional vinegar-based NC style can be quite stark. This was the entire basis for Danny's creation.
After arriving in the area in 1989 from Florida, Danny (the owner of Danny's), found the NC sauce to be vastly different from the ones back home and set out to bring those Southeastern flavors to Durham. All meats are cooked over a fire pit with hickory smoked wood, giving them a real distinct and unique taste.
Danny's now has two locations in the region, one a little further away in neighboring Cary. Unsurprisingly, their generous plate options that come with creamy coleslaw, baked beans with pork, potato salad, corn, toasted BBQ bread, and french fries are a major attraction.
Danny's Barbeque Information
Address: 2945 S Miami Blvd #118, Durham, NC 27703, United States. Click here for directions.Phone: +19198061965Operating Hours: 11 am – 2 pm Monday-Friday. Closed weekends.Must-Try Meals: The 3 meat combo meal with two sides and Texas toast is both a feast and a bargain at $17 (be sure to generously apply the Florida-style sauces you'll find on your table).Average Cost: $8-$12 sandwiches, $9-$17 lunch plates, $4-$6 side dishes and dessertsWebsite: dannysbarbque.com
15. Chosun Ok BBQ
(Best Korean BBQ)
A visit to Chosun Ok BBQ is itself a unique experience. The low-key restaurant serves really good Korean-style BBQ that you cook yourself right in front of you. In the traditional Korean fashion, small tabletop hotplates are placed on your table, you then order your choice of meat, and away you go.
The Korean take on BBQ is different from the traditional US style in the sense that smaller cuts of meat are used. As well as cooking it yourself, the meat is presented and eaten in a different way such as wrapped in lettuce or sesame leaves. Expect the sauces to differ too; Ssamjang is a popular soybean and red pepper sauce used for meat and veggies.
Bibimbap is another popular choice that includes a choice of meats, rice, and vegetables all cooked together in one hot stone pot. Chosun Ok has a great menu with a variety of delicious traditional Korean-style dishes and offers a different take on BBQ in Durham. For a unique BBQ experience, head here.
Chosun Ok BBQ Information
Address: 2105 NC-54, Durham, NC 27713, United States. Click here for directions.Phone: +19198061213Operating Hours: 11 am – 2.30 pm, 4.30 pm – 8.30 pm Monday-Saturday (closed Tuesday), 12 pm – 3 pm, 5 pm – 8.30 pm SundayMust-Try Meals: The Korean-style beef ribs are excellent, but also have a Bibimbap, the traditional meat, rice, and vegetable hot pot.Average Cost: $17-$20 BBQ dishes, $12-$18 Bibimbap bowls, $40-$70 meat combos and sharing plattersWebsite: chosunok.bobog.com
Must-Try BBQ Dishes in Durham
There are so many great BBQ restaurants in Durham and they all offer something a little different. So let's have a real focus on just the food. Here's a short review of a few of my favorite dishes that I enjoyed during my time in Durham, and choices you'd be crazy to miss.
NC Style Rack of Ribs
It's an absolute NC staple dish, so ribs are a must while you're in town. My favorite ribs are served at The Blue Note Grill and come as either a half or whole rack smothered in sweet and tangy NC-style BBQ sauce, plus two side dish options and hush puppies.
Brisket Sandwich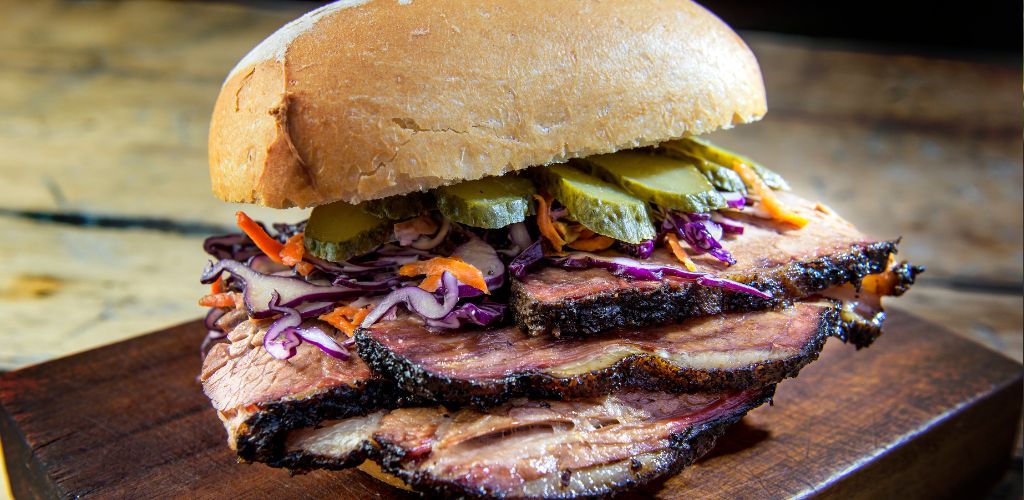 Maverick's Smokehouse and Taproom's lunchtime 'hardworkin' special' is not only a bargain but is a delicious slice of North Carolina barbecue. The meat is super tender, served in a fresh roll, and comes with coleslaw, an additional side, and a fountain drink. Again, be sure to add plenty of NC BBQ sauce to really get into the local spirit!
Alabama White Sauce
There's not only NC-style BBQ in Durham. Head down to Moe's Original BBQ for a taste of Alabama-influenced cooking. Their smoked half-roast chicken comes with a zesty Alabama-style white sauce for dipping, it's a unique taste sensation and pretty rare to find in Durham, NC.
Brunswick Stew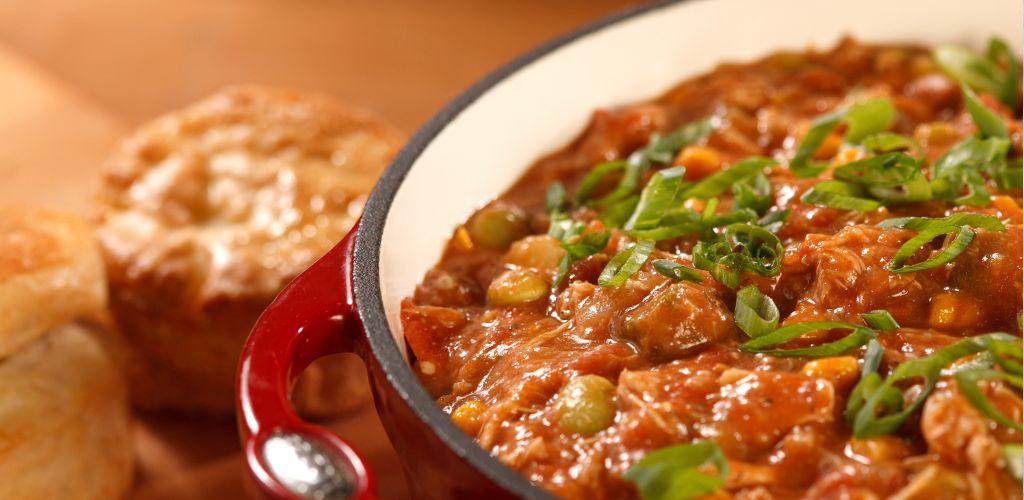 You'll find Brunswick stew on the menu at many Durham restaurants. Although it's rumored to have originated in neighboring Virginia, the tomato-based dish is a popular staple in North Carolina.
Specific recipes vary but the stew usually includes beans, vegetables, and 2 or 3 meats. Bullock's Bar-B-Cue's Brunswick stew is served in its own bread bowl – the perfect way to eat it.
Whole Hog BBQ
Picnic's whole hog BBQ really is something else. Voted by Time Magazine as one of the top 8 BBQ restaurants in the Carolinas, their pork sandwiches and plates accompanied with lashings of NC-style BBQ sauce are a right of passage when visiting Durham.
Best BBQ in Durham: FAQs
Here are some answers to commonly asked questions about the best BBQ in Durham:
Do you tip in Durham?
Yes, it is customary to tip in Durham, NC. In most bars and restaurants where there's an element of service involved, offering a gratuity is the 'done thing'. It's predominantly left up to the customer to decide whether to tip and how much, but a 10%-20% gratuity is usually considered fair and acceptable.
What's the best BBQ restaurant in Durham with a view?
The best BBQ restaurant with a view in Durham is It's a Southern Thing. Located in a former industrial building in the heart of the Warehouse District, the first-floor restaurant looks out over the former factories and warehouses of tobacco companies that were once a massive part of Durham's economy.
These days many of the industrial buildings have been renovated into bars, restaurants, cafes, apartments, and offices.
Does Durham have good BBQ?
Durham has some of the best BBQ I've ever tasted. With so many great restaurants, the competition is fierce and so the quality is especially high. Many people take BBQ very seriously in Durham and across the Carolinas – bad BBQ restaurants wouldn't last long here.
How much does BBQ cost in Durham?
It can vary considerably from place to place and prices depend on what you are ordering. I'd expect to pay around $9-$12 for a decent BBQ sandwich and side dish. Larger plates and combos cost higher at around $15-$20 with a couple of side dish options included.
In Conclusion
Well, writing this article has made me very hungry. Reminiscing on all the great BBQ dishes in Durham has reminded me just how good the food is there. It's only when listing the differences that I have truly come to comprehend the variations in the restaurants and the type of BBQ they all serve.
Durham has no shortage of great spots for BBQ, and it's not just the local style you'll come across. A number of Southern-influenced restaurants call Durham home, so you'll certainly be spoilt for choice when looking for good BBQ in Durham.