The Malibu Five is the ultimate beachfront vacation rental in Malibu! From colorful sunsets to luxurious amenities, this vacation rental is where dreams come true.
With an infant and a dog, rental homes have become our preferred accommodations. As a San Diego girl born & raised, I can go on and on about all of the amazing things to do in Southern California—and Malibu is always on that list!
We booked The Malibu Five with Fieldtrip for a weekend as a family—complete with a toddler, two doggos, and both sets of grandparents! Check out my Instagram Reel of The Malibu Five for a snippit of our experience!
My friends at Fieldtrip have extended a sweet discount code for TBA readers — use "TBAFIELDTRIP" to get $150 off a booking.
Here's a breakdown of The Malibu Five, an incredible beachfront Malibu vacation home!

Location
If you're like me, you value the power of a perfect location. The Malibu Five beachfront vacation home hits the bullseye.
This little slice of heaven is perched (literally) on top of the beach. The jaw-dropping views of the Pacific Ocean are absolutely incredible to wake up to.
Keep your eyes peeled—we saw tons of dolphins during our stay!
The property is conveniently located walking distance to Moonshadows restaurant and the Malibu Pier is just a short drive away.

About The Malibu Five Vacation Rental
The Malibu Five is a complex of 5 individual one-bedroom units that can be booked separately or you can do a buyout of the entire property. So whether you're looking for a romantic getaway or a multi-family vacation, it's the perfect property!
We booked units 1, 2, and 3 so that we could all stay "together" while enjoying our own space. I'll share more info about each of the five units below!
Each unit has an ocean views with a beachfront balcony, king-sized bed, and fully stocked kitchen. And, there's a communal fire pit and beach access for all units, so no matter where you stay, you can enjoy!
Bonus: It's dog-friendly and so much fun for kiddos!
Quick Note:
The beach has a very dramatic high and low tide, and the sand is mostly gone in the winter months. Be sure to check tide reports to see when (and if) you can enjoy the beach below the property during your stay!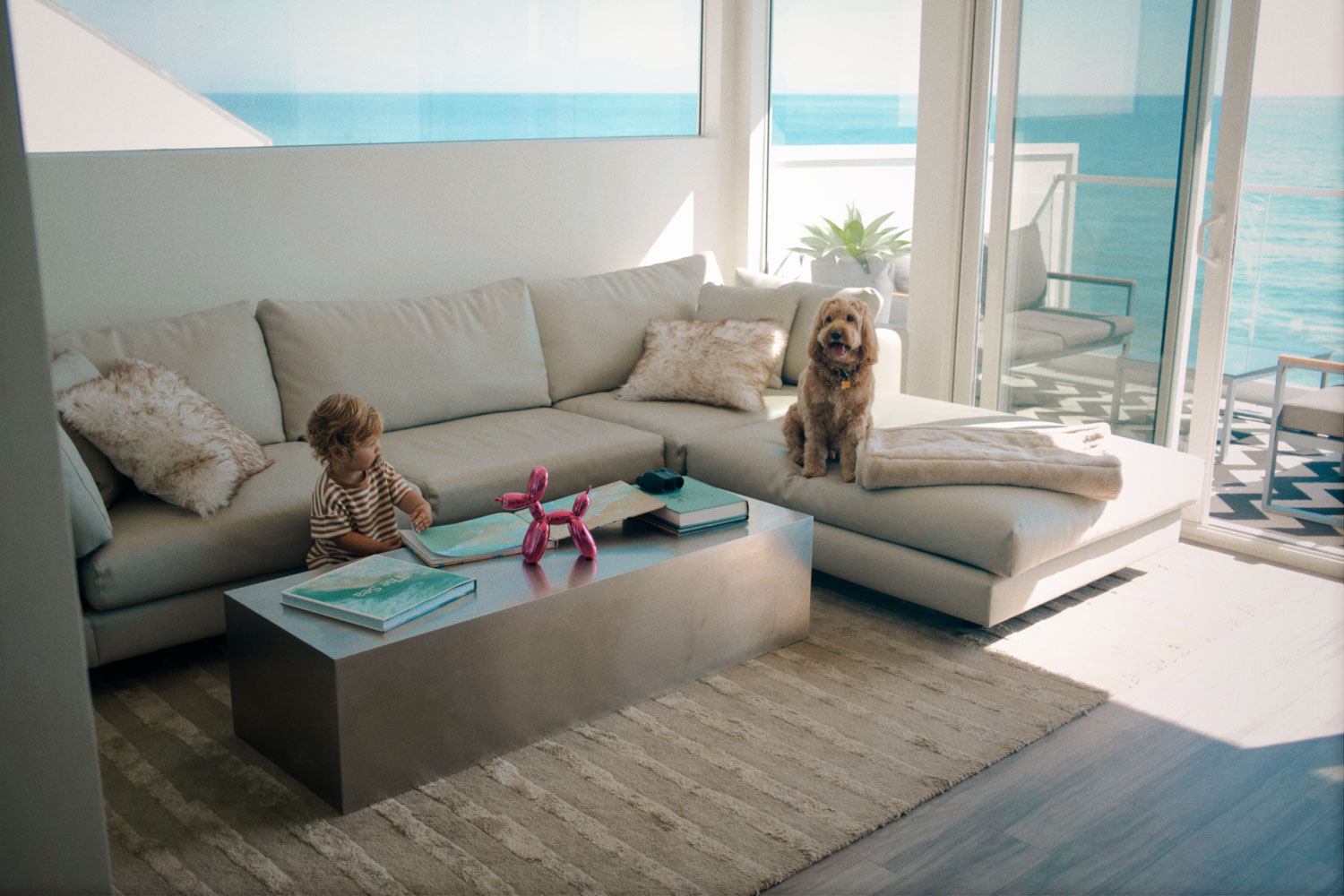 The Malibu Five
The Beachfront Units
If you're wondering how the five spaces differ, here's a breakdown:
No. 1: This is the largest unit and is detached from the rest. It also has a fully separate bedroom and the largest balcony.
No. 2: This is a smaller studio-style unit that is on the lower level. It's closest to the beach.
No. 3 and No. 5: These two units are nearly identical and, if you rent them together, the balcony doors can be opened to connect them and make one giant balcony.
No. 4: This is a studio-style unit that's similar in size to No. 3 & No.5 but with a different layout and bigger kitchen.
We rented units 1, 2, and 3 which were perfect for our extended family. We enjoyed having unit 1 because we were able to use the spacious balcony as a group. Another great option would be renting units 3, 4, and 5 since they are similar styles and the balconies can be joined to create one big balcony.
And, as I mentioned, you can also do a complete buyout of The Malibu Five and all five units!

Activities
Malibu is a small destination but with lots to do! One of the most obvious highlights is spending some time on one of the many beaches.
We love grabbing a meal at Malibu Farms on the pier. If you can score a reservation (book WELL in advance), Nobu is also a Malibu staple!
Some other great things to add to your itinerary are Malibu Wines, the Getty Villa, and spending a day exploring nearby Santa Monica and Venice Beach!

In My Opinion
I would absolutely stay here again! I'll never get over how incredible the views were.
It felt like our own private oasis right on the beach in Malibu, and I can see us coming back time and time again — with friends and family.
If you're looking for a high-end and beautiful beachfront home in Malibu, The Malibu Five is where it's at!
Fieldtrip has a discount code for TBA readers — use "
TBAFIELDTRIP" to get $150 off a booking.